Another great LCHF (Low Carb High Fat) meal choice!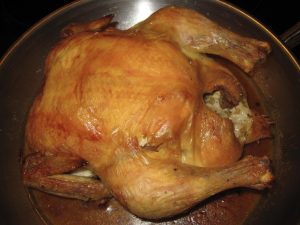 Make a brine for your chicken. You can adjust the various spices, or even leave some out, according to taste:
Water (as much as needed, usually 3 or 4 cups)
Salt (1/4 to 1/2 cup)
1T Black pepper corns
1T Ground black pepper
1T Garlic powder or chopped garlic
1T Onion powder or chopped onions
1t Crushed Cayenne pepper.
1T Tabasco sauce.
3T Frank's Red Hot Sauce.
1T Assorted herbs, I like to add some Italian seasoning.
Brine your chicken in the fridge for at least 6 hours, maybe a day if you can. I use the extra large (2 or even 3 gallon) zip bags. Put the chicken in the bag, add brine, carefully squeeze the air out of the bag, seal, then place in a large bowl (to catch leaks) and in the fridge.
Preheat oven to 425F (or use 400F convection, which is what I did here, which helped produce a nice crispy skin).
Remove from brine, drain and rinse off to remove excess salt from the chicken.
Put in a roasting pan or even a large oven safe frying pan.
Roast until the white meat is 165F and the dark meat is 170F.
Rest for 10-15 minutes, then carve and enjoy!